Chicken Roast Recipe:
Clean a whole chicken and wash it inside out nicely. Make sure you pat it completely dry with paper towels. Also, make sure you use a chicken which has the skin on, the skin adds a lot of flavour.
Fill a vessel with buttermilk and soak the chicken in it. Keep this in the fridge to marinate overnight. Remember, this will keep your chicken extremely moist through the whole roasting process. So, don't skip this part.
Now take 100g of salted Amul garlic herb butter at room temperature and add to it 2 tablespoons of the Nomad Food Project Bacon Fat. Add two tablespoons maple syrup to it, as well as salt and pepper as seasoning. Mix it nicely till it becomes a soft creamy mixture.
Now use your hands to coat every corner of the bird with this bacon butter. Put it inside and outside. Make sure there's no part of the chicken not coated with this butter. Even apply the butter under the skin of the chicken wherever you can.
Take a large baking tray and spray it with oil or rub butter on it.
Now cover the bottom of the baking tray with vegetables of your choice. I used onions, mushrooms, carrots, yellow and green zucchinis, and garlic. You can add beets, beans, broccoli if you like too. Avoid adding leafy vegetables.
Sprinkle a little salt and pepper on these vegetables as well as KEYA oregano seasoning. Add a few dollops of the Nomad Food Project Bacon Stout Marmalade to these veggies.
Now, place your bacon butter bird on top of the vegetables right side up and then, place this in a preheated oven for 90 mins at 200°C or till it's completely cooked. Make sure you place or in the middle of the oven equidistant from the top and bottom. Also make sure the oven setting is set to heat from top and bottom. The time can differ based on how big the chicken is.
Half way through, remove the bird and brush some barbecue sauce mixed with honey on the top of the bird evenly.
After the chicken is done, let it rest for 1 hour at least before you cut it. This way the juices remain inside and it stays nice and juicy. Do not cut it soon as it is out of the oven!!!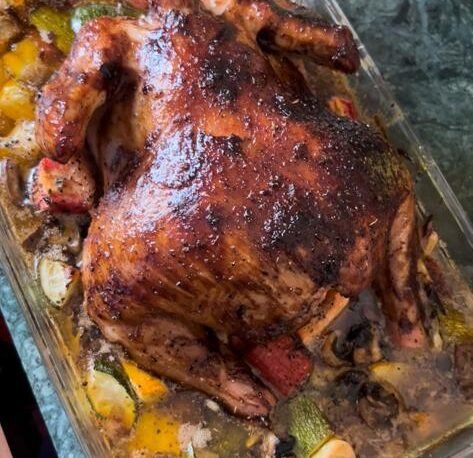 Roasted baby potatoes:
Cut 1/2 kg of baby potatoes in half.
Heat up 2 teaspoons of the Nomad Food Project Bacon Fat in a pan.
Put a fistful of garlic cloves in there and let them turn golden brown.
Add the baby potatoes and season with salt, pepper and KEYA oregano seasoning.
Let the potatoes roast till they are soft and cooked all the way through.
Add 3 teaspoons of the Nomad Project Bacon Bourbon Relish to them when they're cooked and nicely mix it.
Serve the roast chicken with the roasted veggies, baby potatoes, fluffy flavoured basmati rice and a salad.
Thank me later.